Fun Moments from last year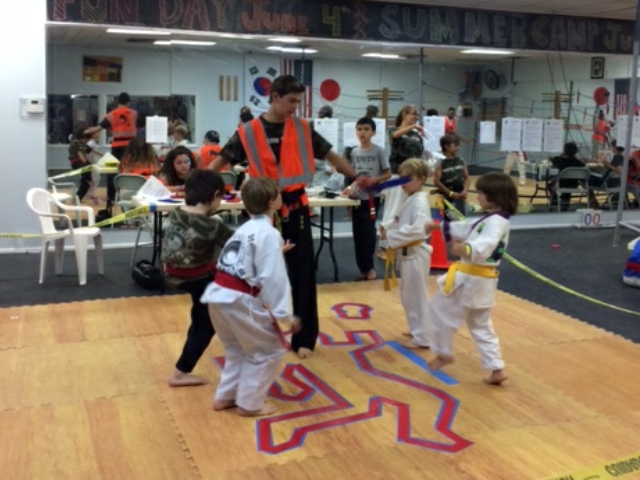 Here's the scoop:
When: Saturday, June 3rd, 2017, 10:00 a.m. until 2:00 p.m. (lunch from 12-1)


Where: South Miami Taekwondo Main Dojo at 4542-B SW 75th Ave, 33155


Who: Anyone may compete with anyone else! Even non-SMTKD students may visit and compete. Just find a partner, go to a ring and ROCK-N-ROLL!


Admission: ALL SPECTATORS ARE FREE! All Day is only $49 (+ Event Tickets) First sibling $39 (+ Event Tickets), each additional sibling $19 (+ Event Tickets). And the new ALL INCLUSIVE pass is $69, each additional sibling $59 - and includes access to most events without the need for event tickets! (Read more below)



Event Tickets It's like the fair. $49 gets you in, then you can spend as much or as little as you like on whichever events you choose. Event tickets are $1 each, sold in books of 5. They cover face painting, sparring, board breaking, lunch - and any other crazy events we happen to come up with. I'd recommend at LEAST 20 tickets.


All Inclusive Pass: This is the "VIP" package. At just $69 ($59 for siblings), it's well worth it! When you wear the AIP bracelet, (great... it spells APE! Well... "AIP") you're set to go. It covers UNLIMITED sparring and forms events, lunch, a 1 ticket face painting and one board break. The only reason you'd need more tickets is a face paint upgrade or if you wanted to smash boards all day long!
FUN DAY FORM
(You will be directed to our secure credit card server for final checkout)
or Call to Register: 305-265-7404
MORE INFORMATION:
This event was created as an alternative to the typical tournament. The problems we were running into with tournaments were many. With Fun Day, our main objective was to address these problems - to provide students a new way to compete and allow them to cut their teeth and maybe whet interest in competing on the road someday.
For example, here's how it works in sparring, the most popular event: Everyone gets a score card when they walk in the door. Each match has a 1st and 2nd place winner, which is recorded on the two competitors' score cards. With a 1st place, you earn 3 tournament points. With a 2nd, you earn two tournament points. At the end of the day, the competitor with the most tournament points wins the sparring trophy.
With breaking, each time you compete, the judge chooses a board based on your technique, rank, size, age etc. If you break it the first try, that's a first place - and 3 tournament points. 2nd attempt is a second place - and two tournament points. In this event, there is also 3rd place for 3 attempts - which earns one tournament point.
This year, we're ending competition at noon. This because in years past, the afternoon section has been laborious, especially with everyone's belly full of pizza. So this year, starting at noon, we'll hold exhibition matches (officials take a spin or two in the ring) while the scores are being tallied. Then we present tropies around 1.
The whole reason we started Fun Day in the first place was to address tournament characteristics that didn't seem quite right. Here's a list of issues and solutions:
Issue:
Cursing, spitting, yelling and vile behavior in general from parents, coaches and competitors. The way a typical tournament is set up, this is understandable if inexcusable. People travel hours, pay around a hundred bucks or more just to get in - and then the single elimination system knocks most people out of competition after the first match! Then if you make it to the "final four," tons of time and money are on the line, and people have little patience - much less compassion - for other teams they don't know or care about from all over the country.
Solution:
This is US. Just US. We all know one another, and we have no loose cannons among us. And since nobody knows until we tally up the scores who won the trophies anyway, there is no reason or opportunity for rude people to do their sabbatoging during the tournament.
---
Issue:
Typical tournaments are very expensive, anywhere from $70 to over $150 - for just one or two matches!
Solution:
We made it "Carnival / Fair Style," which created financial options: Spend what you normally would and compete 'til you drop, or compete as much as you normally would for a fraction of the cost - or anywhere in between.
---
Issue:
With regular tournaments, travel and accommodations are usually involved, taking valuable time and costing often more than the tournament itself.
Solution:
It's right here at the dojo, so no travel expenses.
---
Issue:
Because of the single elimination system, participation at typical tournaments is extremely limited, usually only one or two matches, and sometimes none at all if there was no match for size, rank and weight class.
Solution:
We open the rules to creativity so that anyone can compete with anyone else, as much as they wish. We also have events like the high kick contest, where proportional measurements open it to everyone.
---
Issue:
Regular tournament times are always, always, dependably wrong. If you miss your call, you forfeit the match. Thus, you end up inevitably sitting around in a stuffy gym all day, sitting on a hard bleacher seat, waiting for your call, quite literally bored stiff.
Solution:
Your competition time is any time you want to find a partner and get in line for a ring. No waiting for your division, because there aren't any.
---
Issue:
Typical tournaments allow only one "winner." Obviosly then, most people go home empty handed.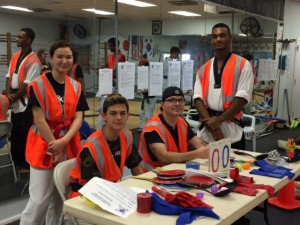 Solution:
Everyone wins in practically every ring. With no divisions, each contest has a 1st and 2nd place winner, both of whom walk out the door with points on their score cards. At the end of the day, trophies are awarded based on score card tallies, so that it's entirely possible to win a trophy without winning any actual matches - as long as you work hard... You just have to replace fighting skill with sweat and persistence. Best bet, of course, is to compete all day and WIN!
---
Issue:
Back when we did travel tournaments, you never knew who you were going to fight - The school bully of whatever town we were in, or the next Jeffrey Daumer with a stilleto hidden up his arm guard. Since it is not uncommon for people to wear a lower belt so that they're assured of winning a medal in a junior division, you may actually fight someone way above your rank and skill level! Often there are no actual scales either, so you'd spar a 7 foot giant entered in the "100-150 pound" category.
Solution:
You always know your competition, because you choose them!
---
Issue:
Due to the combination of these factors, there is always a lot of tension and enormous pressure on competitors to "bring home the gold," as if this would somehow justify all we'd been through. This kind of pressure diminishes performance, increasing the likelihood of a loss. Many students actually quit Taekwondo after attending only one tournament.
Solution:
With these other factors resolved, there is little or no pressure. You may participate in whatever events you please and enjoy the day. You will be able to compete all you like, with whomever you like, whenever you like. You will
not
leave empty handed. You will walk out exhausted, happy and satiated.
---